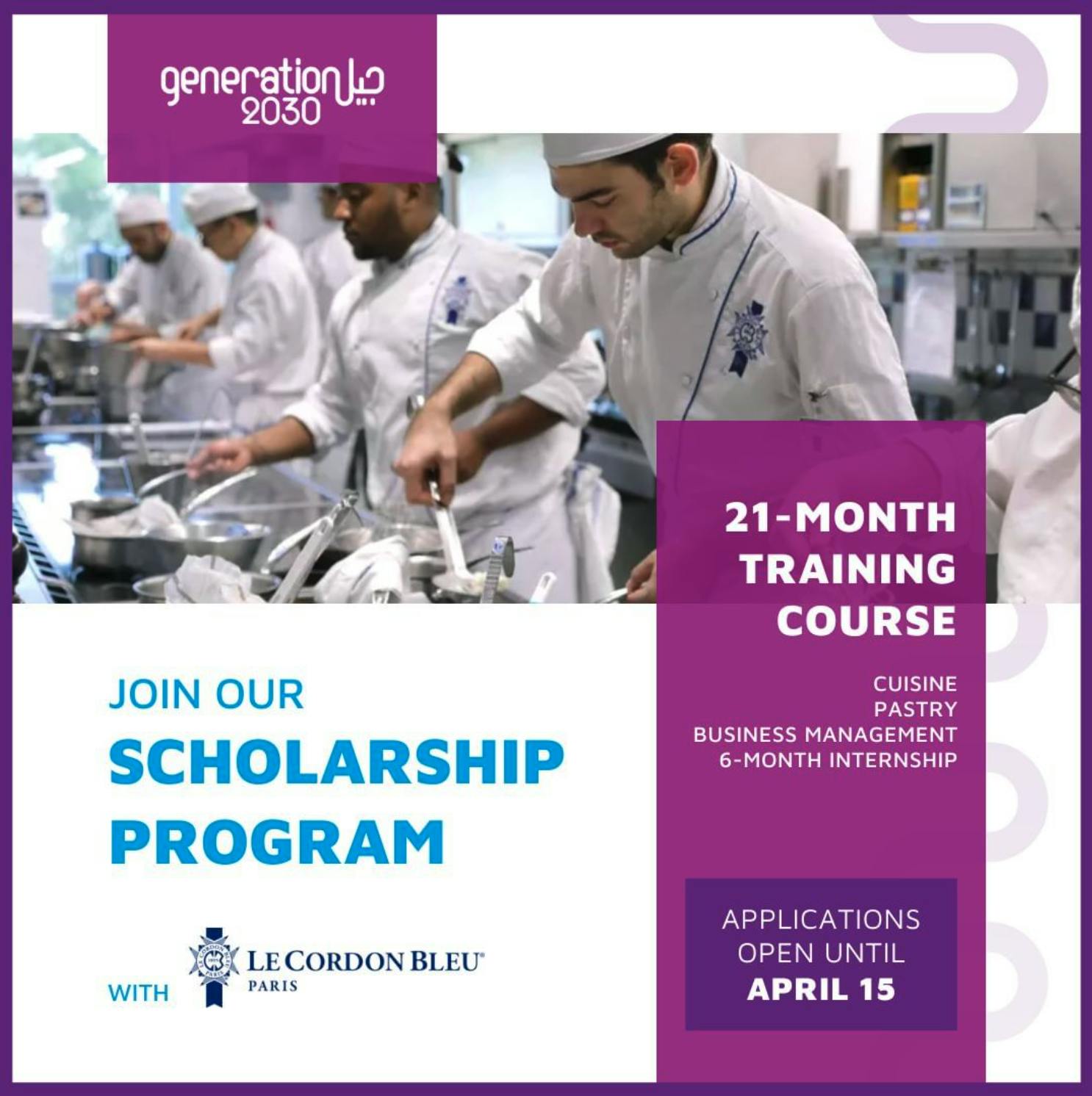 APPLY NOW! Click here to complete the form.

Get the opportunity of being one of the selected Saudi Chefs to be trained through the prestigious 21-month Grand Diplôme® of Le Cordon Bleu in Paris (starting from July 2023) and benefit from the Generation 2030 Scholarship.



Programme Description :

The Grand Diplôme® with Internship Pathway and Culinary Management is a comprehensive and career-oriented training programme for working in both cuisine and pastry.

This programme is designed to enable students to develop their own cuisine and pastry style in the culinary world.

During the programme, students learn all culinary techniques, managerial know-how and the necessary skills for creating a business concept. Students create and develop their concepts, and their menus for a restaurant or other type of business of their choice, and learn how to manage the administration of a kitchen and culinary business.

The programme is taught in French and consecutively translated into English during demonstrations and theory classes.

This Diploma combines three levels of the Diplôme de Cuisine and the Diplôme de Pâtisserie: Basic, Intermediate and Superior including 3 months of practice.

It is followed by the 3-month Culinary Management programme and a compulsory 6-month professional internship.

The total duration of this programme is 21 months including the compulsory professional internship in Paris.

From July, 3rd 2023 to March, 31st 2025.

Basic Cuisine & Basic Pastry simultaneously : 3 months 
Intermediate Cuisine & Intermediate Pastry simultaneously : 3 months
Practical Application at Le Cordon Bleu Paris institute : 3 months
Superior Cuisine & Superior Pastry simultaneously : 3 months
Diplôme of Culinary Management : 3 months
Compulsory Professional Internship : 6 months

See full details of the program in Le Cordon Bleu brochure.


Application Requirements in English or French (PDF Format) :

Prerequisite: minimum high school graduates.
Passport Copy.
Highest Diploma Copy
CV + Letter of motivation explaining the professional project.
Proof of English level (Diploma taught in English / TOEIC / TOEFL...) / Notions of French is a +.
No previous professional experience is required.

Timeline:

April, 1st : Opening of the Call for Applications.
April, 15th : Closing of the Call for Applications.
May, 1st to 15th : Individual Interviews with Cordon Bleu Admissions Jury.
May, 20th : Announcement of the final selection of Saudi Applicants.
May, 31st : Final Confirmation
July, 2nd : Orientation Day at Cordon Bleu Paris.
July, 3rd : Beginning of the Program.
March 31st 2025 : End of the Program

The Scholarship only and strictly covers : Tuitions Fees / Visa / Flight tickets (one round trip). Other expenses are under the students' responsibility.


For any question: contact.asso@generation2030.com

APPLY NOW! Click here to complete the form.